Please note:
We sell these kits for pickup only in Princeton. Please email us to arrange to pick up your order. There are four 8-foot and two 4-foot boards in a kit; they fit easily into most hatchback vehicles.

You will need an electric drill or screwdriver to put the kit together easily. I would not recommend trying to use a manual screwdriver.
Bountiful Boxes offers a simple product: A kit to make a 4×8 raised garden bed. One optional add-on is a picture-frame cap to give the bed a finished look and a place to sit.
CEDAR BED KIT ($160 for standard 11″ height; $230 for tall 16.5″ height)
Our cedar kits offer a refined, smooth look with a light brown color that fades to a handsome grey. Cedar is naturally rot- and insect-resistant. The standard kit is 11 inches tall and weighs about 55 pounds. We can make the kit taller by adding another board. Beans, tomatoes, even carrots all will have plenty of room for their roots with our standard bed. The main reasons for a taller bed would be aesthetic or ergonomic. Some people have ordered taller beds so they don't have to bend over as much. [Note: If price is an issue, please consider following our free do-it-yourself instructions.]
CEDAR CAP KIT
I've added caps to beds I've made for myself and for friends, so customers have often asked about having a similar option for their beds. I've now worked out a simple system that will allow gardeners to install a cap without special tools or skills. The cap is made from the same material that make up the sides of the bed: 5/4×6″ cedar decking. The caps come with mitered corners that fit together like a picture frame and are secured to the bed with stainless steel screws. The cap covers the corner posts for a neat finished look and is just wide enough to sit on while poking seeds into the ground or pulling weeds.
Want a size or configuration not listed here? Please write me.
Do you want to retrofit a cap onto an existing Bountiful Boxes bed? Email me directly to make sure the cap will work for your bed.
Do you need a different size? Contact me directly and we'll work out a custom size for you. Unfortunately, in many cases a smaller bed in a custom size will cost nearly as much as the 4×8 size, but it may well be worth it if it allows you to turn a particular patch of yard into a productive garden!
FREE DIY INSTRUCTIONS
Live outside the Princeton, NJ, area or prefer making things yourself? Our free DIY instructions take you through making a kit from scratch.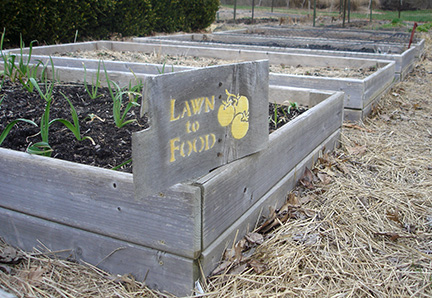 Here are 2-year-old cedar beds at Riverside Elementary School, planted and tended by garden educator Dorothy Mullen.