The kit includes:
4 8-foot boards
4 4-foot boards
4 11-inch corners
32 screws (plus a couple extra)
TOOLS NEEDED: Electric drill and screw driver bit (#2 Phillips).
Instructions for CEDAR kits:
1. Find a flat surface such as a deck or driveway with enough room for a completed (4×8-foot) garden bed.
2. Set two corner posts 4 feet apart and place two of the short boards over the posts, like this:



5. Put a screw in each hole and drive them in with a drill.
6. Repeat with the other two corners and two 4-foot boards.
7. Set the two completed ends up on their sides parallel to each other and 8 feet apart.
8. Place two 8-foot boards on their edges spanning the two ends, again matching the numbers on the boards to the numbers on the posts. Like this: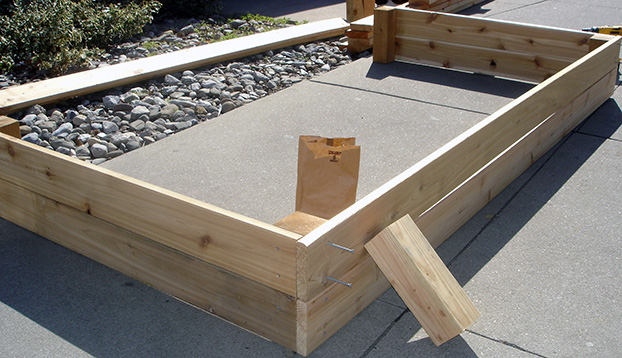 It's good to have a helper or to lean something against the boards to keep them from falling over until you drive in the screws.
9. Put screws into the holes and drive them in.
10. Repeat for the other side.