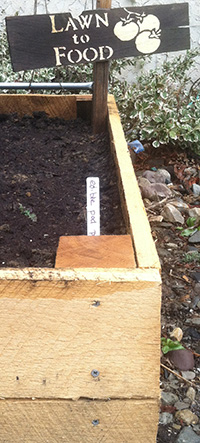 Master gardener and educator Dorothy Mullen wanted to know the moment I was finished setting up the  bed at Whole Earth Center so she could get started putting in seeds – given all the queues of an early spring, a gardener can hold on only so long. Well, here's a note from Dorothy about her first planting:
I planted edible pod peas.  In New Jersey we usually say to plant peas around St. Patrick's Day.  It's been so warm I did it a little ahead of time.  Peas are a cold weather crop and should not be planted well into April, although you can do a second planting in the fall.  What's nice abouat these peas is that the whole plant is edible.  The tender leaves can be harvested and eaten in salad or stir fries.
Next up: a row of climbing peas by the trellis.
Dorothy will be contributing gardening tips throughout the season, so pull out your trowel and stayed tuned.