Spring is here and we're open for business!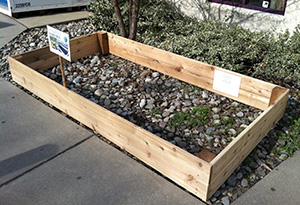 The Whole Earth Center and Bountiful Boxes are supporting Princeton's Lawn-to-Food movement by offering wood kits to make raised garden beds. The idea is to encourage more backyard or frontyard gardening. We see four huge benefits:
Providing an inexpensive source of delicious, fresh vegetables. Some of our favorites — snow peas crisp and sweet and still wet with a cool morning dew; crunchy, tender green beans casually handed to visiting friend; sun-warm heirloom tomatoes —  could not be bought at any price.
Building community around the joy of gardening — trading bounty, advice, setbacks, triumphs and home-grown meals.
Lowering our environmental impact by replacing 32 square feet (the size of one of our 4×8 beds) of fertilizer-hogging grass with a piece of sustainable, edible landscaping.
Supporting garden-based education: Bountiful Boxes is donating 5% of each sale to the Princeton School Gardens Cooperative.
To see the kits we're offering, look at our boxes page. Currently, all orders for garden beds are being handled by the Whole Earth Center in Princeton — please stop by or call (609-924-7429) to place your order. Or email us with questions.
This site is new. We'll be building, expanding and blogging, so please come back!